Canyon Pet Hospital Newsletter
The latest news for Northern Arizona pet owners.
The veterinarians and staff at the Canyon Pet Hospital are pleased to provide you with an online newsletter. This fun and fact-filled newsletter is updated on a regular basis. Included in the newsletter are articles pertaining to pet care, information on Canyon Pet Hospital, as well as news on the latest trends and discoveries in veterinary medicine. Please enjoy the newsletter!
Current Newsletter Topics
June is Adopt-A-Cat Month - Here's How to Find the Right Purring Companion
You may have heard the saying, "You own a dog, but you feed a cat." It is true that cats value their independence a bit more than their canine counterparts. But, if you've ever been around cats, you already know they crave and require love and companionship. Cats make wonderful pets and most easily adjust to a variety of lifestyles and living spaces. Every cat is a true individual though, so it's important to take the time to choose a four-footed friend who's right for you. A cat's personality, age and appearance, as well as the kinds of pets you already have at home, are all things you should keep in mind when making your selection.
If you've ever been to a shelter, you have probably noticed that some cats meow and head butt the cage door while others simply lie back and gaze at you with a look of total ambiguity. There are as many different personalities of cats as there are cats in the shelter. Which disposition is best for you? YOU have to decide.
Regardless of individual personality, look for a cat that is playful, active, alert and comfortable while being held. At the shelter, ask an adoption counselor for assistance when you wish to spend some time with individual cats. Because they are in an unfamiliar environment, some cats that are usually quite social may be frightened or passive while in the shelter.
As a general rule, kittens are curious, playful and full of energy, while adult cats are more relaxed and less mischievous. Kittens also require more time to train and feed. Cats are only kittens for a few months, though, so the age of the cat you adopt should really depend on the level of maturity you are looking for. Young children usually don't have the maturity to handle kittens responsibly, so a cat that is at least 4 months old is probably the best choice for homes with young children.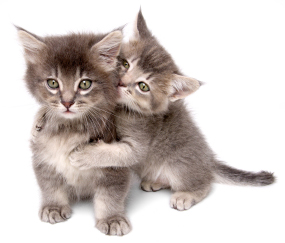 They All May Be Cute, But Which Is Right For You?
Though dogs also have differences in coat, choosing the length of coat on a cat is a little different. Because the hair is generally finer and cats generally shed more, hair length can be an important part of your decision. Cats can have long, fluffy coats or short, dense fur and the choice between the two is chiefly a matter of preference, availability and your willingness to devote time to regular grooming. Short-haired cats are generally easier to come by since they're the most popular and the most common. Keep in mind that long-haired cats require frequent grooming to remain mat-free. Felines with short coats also require brushing, though less frequently. Most cats enjoy a regular brushing and look forward to this daily ritual.
If you already own a cat or dog, you're probably wondering how easy it is to add a cat to the family. The good news is that cats can get along with other cats, and despite the common stereotype, most dogs can get along with cats too. Unfortunately, introducing a new cat to a home with other pets can be time consuming and require patience on your part.
The best way to handle adding a new cat to the home is to provide time for a period of adjustment. You can do this effectively by isolating your new feline in a room of his own for a while, something that is a good idea for a new cat anyway. After several days, supervise meetings between the animals for periods of increasing length. Most cats will soon learn to accept each other. Some dogs simply won't tolerate the presence of a cat, but by carefully introducing them, most problems can be solved.
No matter which kind of cat you choose, remember that you're making a commitment to love and care for your new feline friend for his or her lifetime. That could mean 10, 15 or even 20 years. So choose you new companion carefully and be a responsible pet owner. In no time at all, you'll know how wonderful sharing your home with a cat can be.
For more information about Adopt-A-Cat month, please visit the American Humane Association's website.
Reducing Risk Of Rabies
What is rabies?
Rabies is a fatal disease of the nervous system. It is caused by a virus that can infect all warm-blooded animals, including humans. The virus attacks the brain and spinal cord, causing severe nervous system dysfunction and eventually death.
How is rabies transmitted?
The most common way to contract rabies is through a bite from an infected animal. When a rabid animal bites, the rabies virus in its saliva passes through the broken skin of the victim. Rabid cats can also transmit rabies through their scratches if they have saliva on their paws.
Skunks, bats, coyotes, foxes and raccoons are very susceptible to rabies. Cats, dogs, cattle and horses usually contract rabies through encounters with rabid wildlife.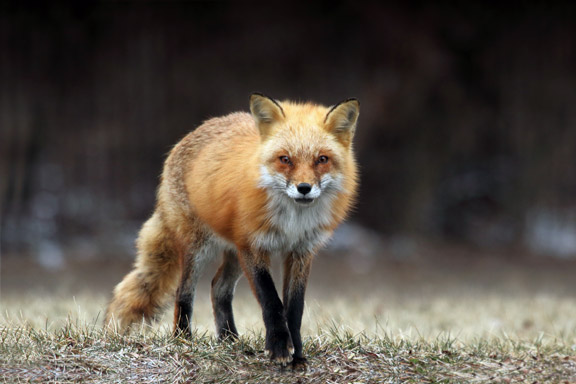 Signs of rabies
The symptoms of rabies can be quite varied. In general, the disease shows three stages that occur in succession. (NOTE: not every animal will display these signs, so any animal behaving abnormally should be regarded with suspicion.)
Stage 1 - Attitude Change
The animal may show nervousness, shyness, aggression or other changes in its normal personality. May show a lack of fear of humans.
Stage 2 - Furious or Excitable Phase
Animals may become extremely agitated, or behave erratically. Animals may bite and snap at anything. Wild animals may wander into unaccustomed areas and attack livestock, people or pets. The tone of an animal's voice may change as its vocal cords become paralyzed. Seizures may occur.
Stage 3 - Paralysis
Victims become progressively paralyzed. Animals may be unable to move their hind limbs and unable to swallow, resulting in choking and frothing at the mouth. This phase ends in death, usually from paralysis of the respiratory muscles.
Rabies cannot be diagnosed with certainty based on symptoms alone. The suspicion of rabies can only be confirmed by testing samples of an animal's brain tissue.
Prevention
Vaccination is an inexpensive, effective means of protecting your animals from rabies. All pets should be vaccinated regularly against rabies. Large animals in high risk situations may also need to be vaccinated. Your veterinarian can develop an appropriate vaccination schedule for your animals.
You can minimize the risk of rabies by avoiding close contact with wildlife. Remember, rabid animals often lose their fear of humans and may appear unusually friendly. Ensure that your house is unattractive to wild animals by keeping garbage bins securely fastened and sheds and garages closed. If your domestic animals are bitten or scratched by a wild animal, consult your veterinarian immediately.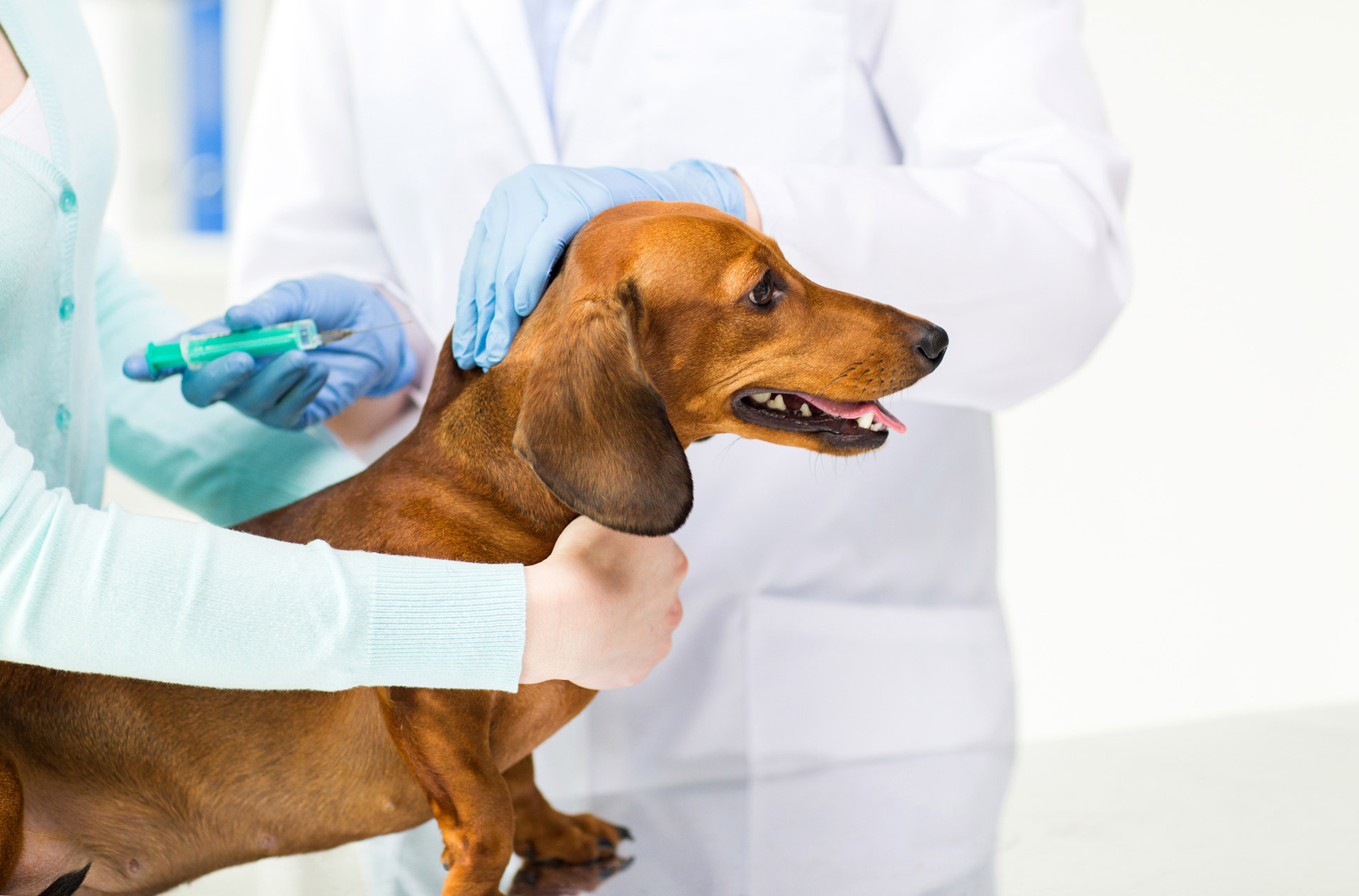 What if I think I've been exposed to rabies?
Prompt medical attention is essential. If you've been bitten by any animal, clean and disinfect the wound thoroughly, then contact your physician or local health authority immediately. If the biting animal can be confined without further danger, it should be kept in a secure area while waiting for public health authorities to arrive. Depending upon the circumstances, the health authorities may choose to quarantine the animal for monitoring or euthanize it for testing. The animal's vaccination status influences this decision.
Remember, rabies is a fatal disease in humans. Every biting incident should be investigated, even if the animal in question appears healthy.
Post-exposure treatment
If rabies exposure cannot be ruled out, people who are bitten are usually treated with a series of injections. There is no treatment for animals that have been exposed to rabies. In both humans and animals, the disease is almost always fatal once symptoms of nervous system dysfunction appear. For more information about rabies, contact your local veterinarian or public health official.
If you want to travel with your pet:
Owners are required to present proof of current rabies vaccinations at customs for dogs and cats traveling to certain countries. A period of quarantine (usually six months) may be required. Before you travel abroad with your pet, contact your veterinarian or public health official.
Minimize the risk
Vaccinate pets and high-risk livestock regularly - see your veterinarian for a vaccination protocol. Keep away from wild animals, no matter how friendly they appear. Keep wild animals away by securely fastening garbage bins and closing garages and sheds.
The Military's Dependence on Dogs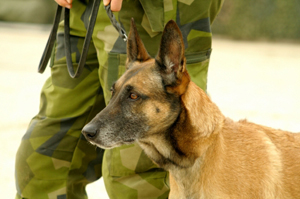 The raid and killing of Osama bin Laden remains shrouded in mystery, yet what most people are not aware of is that there was a four-legged teammate that helped make it all possible. Along with the 79 Navy Seals who took part in the raid, a dog – rumored to be either a German Shepherd or Belgian Malinois, was among the crew. The dog was safely secured to a Navy Seal and lowered into the compound from a Blackhawk helicopter.
This was not the first time a dog helped secure a military operation. In fact, the military has increasingly relied on dogs for their ability to detect bombs at a faster rate than most humans or machines. They are also used for their keen ability to detect people inside buildings, and for preventing their escape – both of which were concerns in the bin Laden raid.
Sergeant Kelly Mylott characterized the dogs as ideal means of catching someone who is trying to run away since the dogs are "trained to bite and hold the suspect." Dogs are trained in several different methods for apprehending and holding a fugitive, but "whatever they do," Mylott explains, "it's very difficult for that person to go any further." The dog may also serve as an intimidation device. In areas of the world where dogs are not understood as pets, particularly in the Middle East, they can be very threatening – often even more so than weapons.
Today, there are approximately 600 dogs helping our troops in Afghanistan and Iraq, and these numbers are expected to rise. Labrador retrievers are trained to walk in front of troops in order to patrol the routes for safety. In fact, dogs may even expect to earn military honors for their efforts. In 2009, a dog named Remco was awarded a silver star after charging an enemy hide-out in Afghanistan.
German Shepherds and Belgian Malinois are the most common breeds used in the military. They are reported to have the best combination of sense of smell, endurance, speed, strength, and intelligence for the job. And they look the cutest in uniform.
How to Keep Your Dog Cool This Summer
People usually prepare themselves for the dangers of increased temperatures. But as the dog days of summer approach, our trusted companions also need special attention to insure that they don't get burned. Like for us, the summer months bring an increased danger of heat exhaustion and heat stroke for dogs.
People naturally regulate their body temperature by sweating. Dogs mainly cool themselves by panting or breathing in through the nose and out through the mouth. The process of panting directs air over the mucous membranes (moist surface) of the tongue, throat and trachea (windpipe). The air that is flowing over these organs causes evaporation, thus cooling the animal. Another mechanisms that helps remove heat includes dilation of blood vessels in the skin of the face, ears and feet. Dilated blood vessels located on the surface of the body cause the blood to loose heat to the outside air.
A dog's normal body temperature is 100.5 to 102.5 degrees Fahrenheit. Like people, dogs can become overheated. If it rises to 105 or 106 degrees, the dog is at risk for developing heat exhaustion. If the body temperature rises to 107 degrees, the dog has entered the danger zone of heat stroke. With heat stroke, damage to the body can be irreversible. Organs begin to shut down, and veterinary care is immediately needed.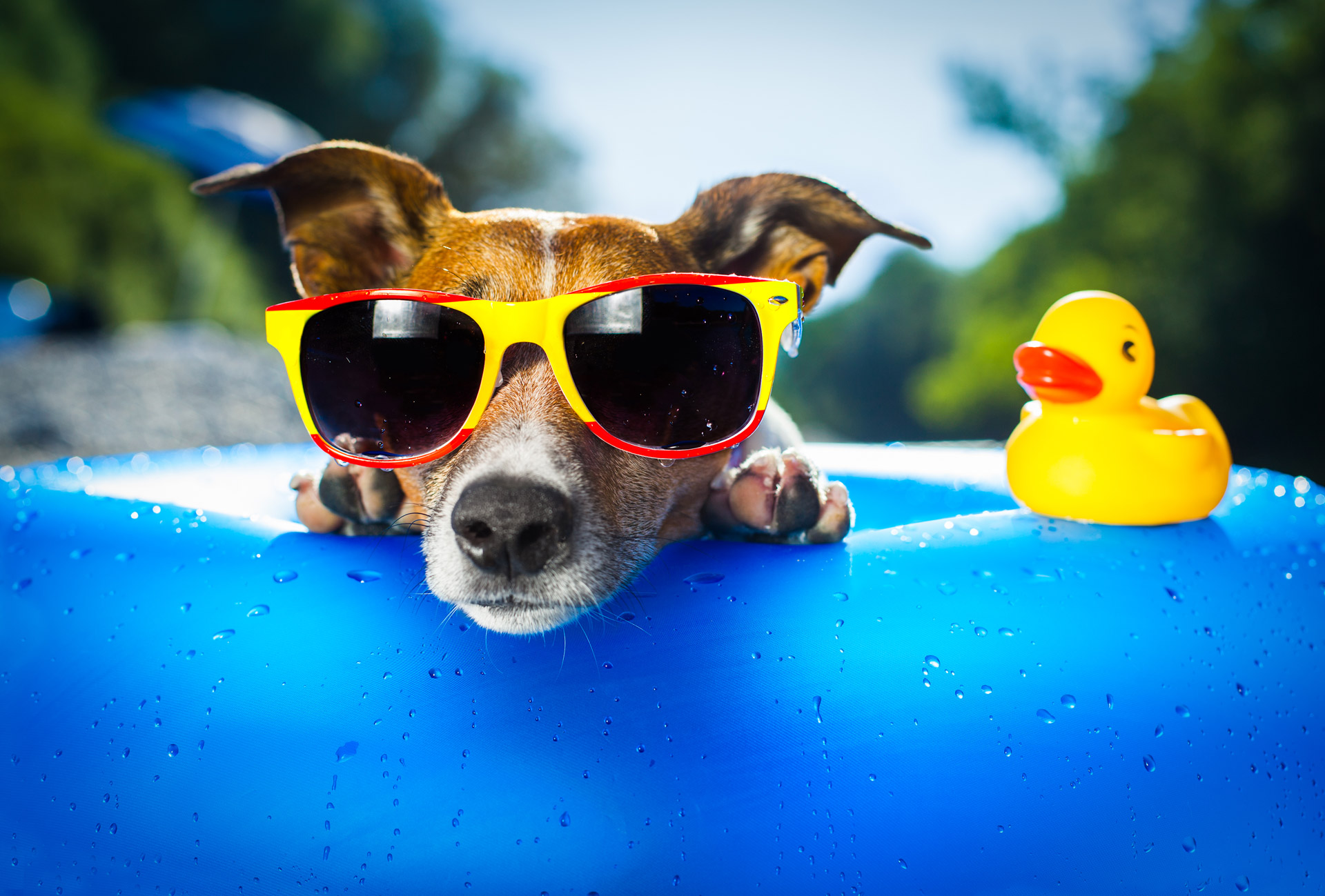 Fortunately, if owners recognize heat exhaustion, they can prevent the dog from entering heat stroke. People can easily recognize when the heat gets to them because they become lightheaded and fail to sweat. For dogs, early signs of heat exhaustion may include failure to salivate and a dry mouth. Heat exhaustion may also include a dog lying down and looking tired, losing its appetite and becoming unresponsive to owners.
If heat exhaustion progresses into heat stroke, the dog becomes very warm to touch and may have seizures. Internal mechanisms roll into effect that may cause blood clotting and organ damage. If you are near a phone and think that heat stroke is a possibility, call your veterinarian immediately. If a veterinarian is not within reach, or while waiting for a veterinarian, get the dog out of the sun and cool him or her down with cool water baths (cool—not cold). Provide a fan, especially if you wet the dog down, and encourage him or her to drink water.
While these steps may help a dog, the best treatment is prevention. In order to prevent overheating, some owners may shave their dogs or trim their fur excessively. This isn't always a good idea. The hair coat may appear to be a burden for a dog; however, it can also keep the animal comfortable by trapping cool air next to the skin, reducing the amount of heat transferred from the hot outside air to the body of the dog.
Dogs with long or thick coats that have problems with matted hair are often good candidates for clipping. Matted hair can cause skin irritation and is undesirable. Owners that do not have time to adequately remove mats and debris from their dog's coat may prefer to have the coat clipped short. After a short clipping, and if the dog is outdoors, owners need to be careful of sunburn. Sunscreen may be applied to the dog's skin; however, it is necessary to consult a veterinarian to find out which ones are safe.
Here are some other tips for keeping your dog cool this summer:
Keep dogs indoors in air conditioning on very hot days.
Do not leave dogs in a car during the summer. Even with the windows down, temperatures inside a car can quickly rise to above 120 degrees. Make sure outdoor dogs have plenty of shade.
Keep fresh water available at all times.
On very hot days, exercise dogs early in the morning or late in the evening. If this is not possible, exercise in an air conditioned environment.
Provide your dog with a sprinkler or wading pool on very warm days.
If you take the dog to a lake, make sure it has plenty of time to drink and get wet. Most dogs can drink lake water without adverse effects.
If your dog has a light coat or exposed skin, take precautions against sunburn.
Dogs can acclimate to warm temperatures and have no trouble staying outdoors in the heat. However, dogs that are used to cool climates or air conditioning should not be left outside on hot days.
Acclimating your dog gradually is the key.
If you have questions about caring for your dog during the summer months, please give your veterinarian a call.
Household Items that are Dangerous for Pets
Everyday household items can quickly become dangerous for pets, so make sure you are taking proper precautions to keep harmful chemicals and potentially dangerous items out of reach. Poisoning can happen in an instant, so talk to our veterinarian about your pet's unique risks.
The clearest signs that your pet has been poisoned are excessive drooling, vomiting, diarrhea, excessive thirst, lethargy, weakness, and pale or yellow-ish gums. Depending on what they ate, a reaction could be immediate, or it may take several hours.
If you witness your pet ingest something that you believe may be harmful to them, you can have them drink a small amount of hydrogen peroxide to induce vomiting. This is safe for pets in small quantities and will help them spit up whatever they have in their stomach. Use a 3% hydrogen peroxide solution. The suggested dosage is 1 teaspoon per 5 pounds of your pet's body weight, but not more than 3 tablespoons. Any more than that or using a more highly concentrated solution could be damaging.
Household items that are toxic to pets include:
antifreeze, mulch, fertilizer, insecticides, pesticides, pool chemicals, rat bait
cleaning supplies, bleach
alcohol, drugs, tobacco products, certain medications
citrus oil extracts, grapes and raisins, coffee, onions, garlic, nuts, chocolate
xylitol (sugar-free sweetener), salt, yeast products (raw bread dough)
There are several types of plants that can be poisonous to both cats and dogs, so keep this in mind when choosing what to incorporate into your garden. Minimize the amounts of plants in your home, or make sure plants are potted and out of reach. Any plant that is on the ground could be a choking hazard for pets, and it can be tricky to make sure you are only buying pet-friendly plants. Plants can vary widely when it comes to the risk they pose to animals, so make sure you are looking up anything you are thinking of adding to your garden or home.
The best way to handle a health emergency is to prepare for one. Have our number on speed dial in case you need to call on a moment's notice. You can also create an action safety plan designed around your pet's unique risks so that you are always prepared for the worst case scenario. Putting together a pet first-aid kit can save your pet's life in an emergency, so make sure you have one in your home and your car in case something happens while you are out with your furry friend. Fast action can truly save your pet's life, so over-preparing is not a bad idea!
Take proper precautions to keep harmful substances out of your pet's reach. Keep things like medications, alcohol, and cleaning chemicals in cabinets or closets where your pet can not access them. If you have any further questions about poison prevention for pets, call our office for further information.