Health Maintenance Services
Vaccines: Important & Safe Disease Prevention
Vaccinations are not only safe and effective; they are an important and fundamental piece of your pet's preventative healthcare plan. Advances in veterinary immunology have made diseases that once were relatively common and fatal to pets easily preventable. There are also vaccines—such as for rabies and other zoonotic diseases—that help protect your family from very dangerous and difficult to treat illnesses. Additionally, with each passing year, veterinary science is improving on existent vaccines as well as increasing our ability to prevent an even wider array of contagious diseases.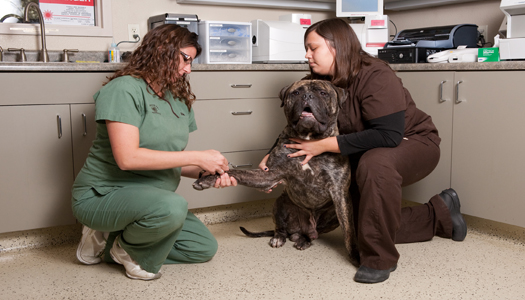 Vaccinations are an important and fundamental piece of your pet's preventative healthcare plan.
Canyon Pet Hospital's vaccination protocol is tailored to American Veterinary Medical Association guidelines, the lifestyle of your pet, as well as to the diseases he or she is most likely to encounter in our region of the country.
We also offer a vaccine designed to help protect your pet should he or she be bitten by a rattlesnake. This particular vaccine is intended to protect against the venom of the Western Diamondback.
In all, our veterinarians truly believe that our carefully balanced approach is the best means to prevent infectious disease and the possibility of your pet having an adverse reaction to a vaccine.
Microchip Lost Pet Identification
How would you find your pet if he or she ever got lost?
Each year, millions of pets go missing and many don't make it back home. Microchipping your pet is a safe, simple and effective way to prevent this tragedy. About the size of a grain of rice, identification microchips are encoded with your pet's vital information and implanted beneath your pet's skin, usually between the shoulder blades.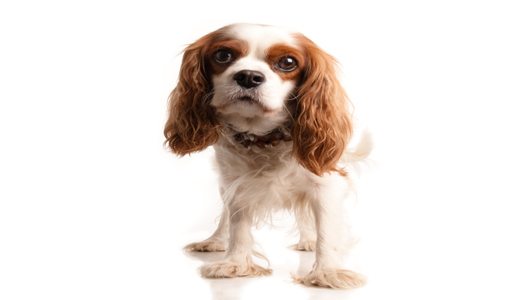 Microchipping your pet is a safe, simple and effective way to help prevent the tragedy of a missing pet.
Veterinary hospitals and animal shelters across the country and around the world are equipped with special scanners capable of reading these microchips. The information in the chip is used to reunite you with your pet.
Canyon Pet Hospital uses the HomeAgain microchip system. HomeAgain provides a number of very useful services to pet owners such as their National Pet Recovery Database, Lost Pet Specialists, Rapid Lost Pet Alerts, Lost Pet Medical Insurance, Travel Assistance for Found Pets, and more.
Care for Exotic & Pocket Pets
Though the vast majority of the pets we see are dogs and cats, Canyon Pet Hospital does provide care for exotic or pocket pets such as small mammals (ferrets, guinea pigs, mice, chinchillas, rabbits, hamsters, etc.), snakes, birds, and lizards and turtles. These animals' healthcare needs are often quite unique and require a little bit more TLC.
In the wild, many of these animals have developed strategies to conceal illness or injuries as a survival technique to avoid predators. As a result, their medical problems often go unnoticed for too long. By the time the owner recognizes that there is a problem with his or her exotic pet, the condition is often extremely serious.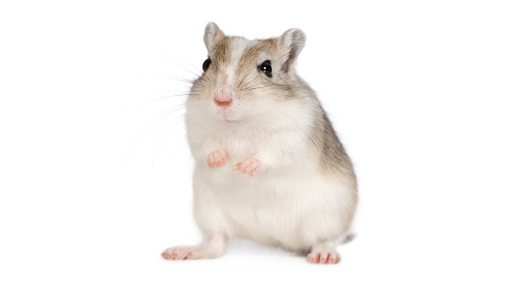 We provide care for exotic and pocket pets such as ferrets, guinea pigs, mice, chinchillas, rabbits, hamsters, snakes, birds, lizards, and turtles.
This is why we strongly recommend regular physical examinations to check for health problems as well as annual monitoring to check for nutritional conditions. With regular veterinary medical examinations—two per year is recommended—problems are often diagnosed before they become serious medical conditions. We also work with specialists in the care of exotic and pocket pets on a regular basis for second opinions and support.
If you have a new exotic or pocket pet, a complete veterinary examination is also strongly recommended. Services by type include:
Small Mammals — Spay, neuter, basic medicine and teeth trimming
Snakes — Basic medicine
Birds — Wing, beak and nail trims.
Lizards and Turtles — Basic medicine
Traveling with Your Pet
If you like to travel with your pet to other countries or states, you may need a national or international health certificate. These certificates document the health of your pet as well as that he or she has been properly vaccinated. If you do not have this form of documentation it is very likely your pet could be quarantined for an extended period of time.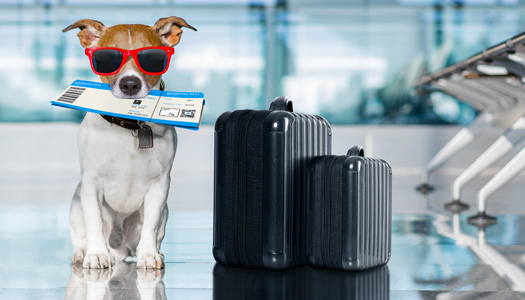 We are authorized and well-versed in handling the documentation required for traveling with your pet.
Canyon Pet Hospital is authorized and well-versed in handling the documentation required for traveling with your pet. Generally, these certificates are only valid for a certain period of time, must be filled out within a specific timeframe prior to when you travel, and require different forms depending on your destination. We can help you understand what you need and advise you on how to safely travel with your pet by air. We also can provide you with valuable recommendations for other travel concerns.
Reproductive Health & Counseling
Canyon Pet Hospital is also able to offer our clients a range of reproductive services and counseling, which includes pregnancy testing and pregnancy health packages. Whether you are an experienced breeder or breeding your pet for the first time, we can help, from initial planning and consultation all the way through birth. In particular, obstetric care and counseling will provide the best chance for maximizing litter size as well as maintaining the health of the mother and litter.
Nutritional & Behavior Counseling
Behavior Counseling
Behavior problems are the number one reason that owners give up a pet. Canyon Pet Hospital offers behavior counseling for many of your pet's problems including inappropriate urination or defecation, aggression, separation anxiety, inappropriate chewing and barking, introduction of new pets into the household and household pets that are in conflict with one another. Oftentimes a behavior problem, such as inappropriate voiding, can be linked to a medical issue (cystitis, bladder stones, and kidney disease). Our veterinarians help you recognize, validate and categorize behavior problems. We work closely with you in developing a specific plan to help eliminate your pet's unwanted behavior. If our veterinarians and technical staff members cannot help with your pet's behavior problem, we can refer you to a board-certified animal behaviorist.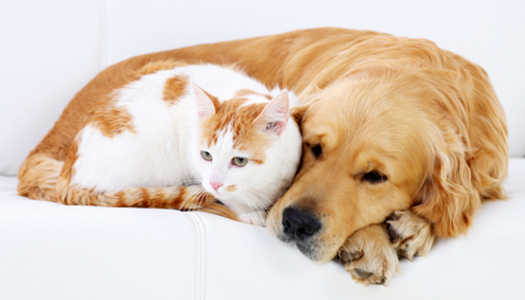 Proper nutrition is one of the key factors contributing to the improved health and longevity of companion animals.
Nutritional Counseling
One of the key factors contributing to the improved health and longevity of companion animals is our expanded knowledge on the important role that proper nutrition plays in overall health. During your pet's comprehensive physical examination we evaluate his or her body condition and give recommendations based on what we see. However, some pets with nutritional issues or chronic conditions such as diabetes require a little bit more intervention, which may include specialized foods, feeding strategies and even prescription diets.
Canyon Pet Hospital has trained staff available to help you with your pet's nutritional challenges. We also have a diverse inventory of prescription foods and high-quality nutritional products at our facility. If your pet requires a prescription diet or any other product we do not carry, we can easily order it for you. We can also offer advice and provide information about diets that benefit specific medical conditions such as liver disease, bladder and kidney stones, renal failure, food allergies, diabetes and other conditions.
Our Pharmacy
In numerous acute or chronic conditions, medication is required to cure or alleviate symptoms. At Canyon Pet Hospital we believe that timely and convenient access to these medications is an important aspect of caring for your pet. For this reason, we maintain a comprehensive pharmacy.
Not only does our pharmacy mean you don't have to wait for important medicines for your pet, but there is a direct line of communication between the examination room and the pharmacy window. Each medication becomes part of your pet's medical record, which reduces the chance for errors and enhances our ability to monitor its use and the outcome for your pet.
Refills are easy too. Simply give us a call or visit our online pharmacy and we can either mail them to you or have them ready at your next visit.
Our Pet Supply Store
With so many pet care products on the market, it can be difficult to know which ones are best for your pet. We have taken some of the guess work out by researching the ones we think are best and then including them in our health products store here at the Hospital.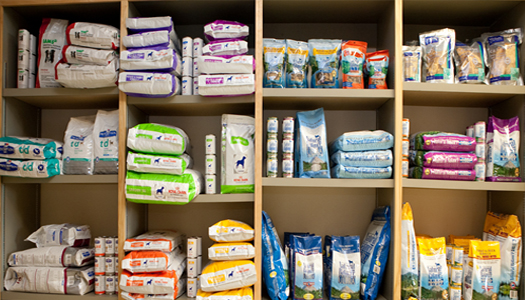 We've researched the products we think are best and stock them in our health products store here at the hospital.
These include flea and tick control products, a range of foods, treats, leads and collars, and more. If you don't see something in our store or would like to suggest a product, we are able to special order a wide range of products for our clients.